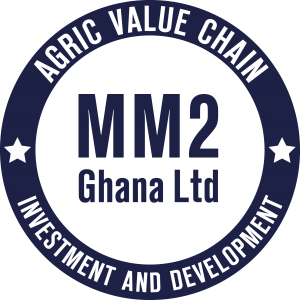 MM2 Ghana Ltd. is the initiator and driver of agricultural business models formed to fit the Ghanaian local culture – the models release synergies in the entire agricultural value chain and form incentives for every local farmer to the benefit of the family, the local community and the market.
MM2 Ghana Ltd. is a Ghanaian registered company with expertise in development and investment in the Agric value chains in Ghana.
MM2 Ghana Ltd. management has long term local and international knowledge on sustainable efficient farming with strong business plans.
MM2 Ghana Ltd. vision is to initiate, design and implement farming value chains in all farming categories with individual farmers and stakeholders in the agricultural value chain.
MM2 Ghana Ltd. is devoted to adding value, education and long term supervision to the Ghanaian agricultural sector – there by contributing to the prosperity of the Ghanaian families.
MM2 Ghana Ltd. has a solid knowledge and hands on experience with running both local and international farming businesses.
MM2 Ghana Ltd. is livestock farming experts, based in Ghana with deep insights into the Ghanaian culture, possibilities and challenges – insights which can be utilized by developing the agricultural sector in Ghana adding significant long term value to the Ghanaian people.
Our aim is to add value by sharing expert knowledge and supply customized solutions to Ghanaian farmers – releasing synergies by forming strong business entities in the entire agricultural value chain.